In the book "Around the World in 80 days", the protagonist Phileas Fogg of London UK and his French valet Passepartout attempt to circumnavigate the world in 80 days on a £20,000 wager (roughly £2 million today). 
Inspired by Phileas and Passepartout's global travels, join us as we take a world tour through the lens of air quality monitoring guided by the Local Haze air quality monitoring app.
The Local Haze team is taking a worldwide tour highlighting 80 AQI sensors around the globe, checking out how citizen scientists and air quality enthusiasts are monitoring their local air quality. When we launched our global tour of air quality monitoring, our first stop was in London UK, at Victoria Station – at the same location where Phileas and Passepartout started their journey in 1872.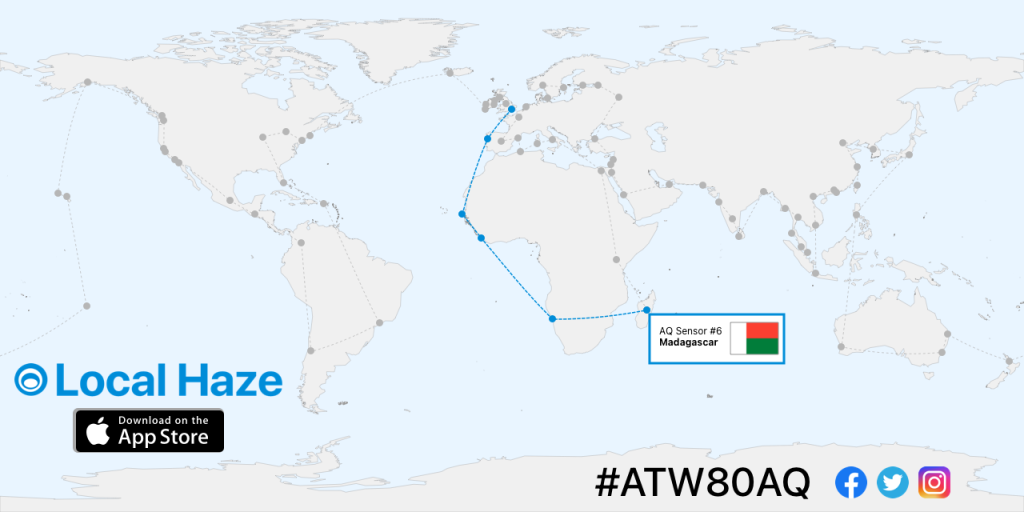 Stop #6: Antananarivo, Madagascar
Today we visit Stop #6 on our tour – the city of Antananarivo, Madagascar. (To read about the previous stops on our world tour of local air quality, visit the Local Haze blog.)
Madagascar, the fourth largest island in the world, has a diverse climate and geography that can significantly impact outdoor air quality. Like many developing countries, Madagascar faces significant challenges related to air pollution. In 2019 according to a UNICEF workshop, it was estimated that more than one in five deaths are caused by exposure to pollution.
Antananarivo is Madagascar's largest city and capital, with a population of over 3.8 million people in 2023. The city is the administrative, communications and economic center of Madagascar. To learn more about the air quality in Antananarivo, we are visiting an AQ monitor named "MADA_AQ_Antsakaviro" located at Latitude 18 degrees, 54 minutes, 45 seconds South and Longitude 47 degrees, 32 minutes, 6 seconds East.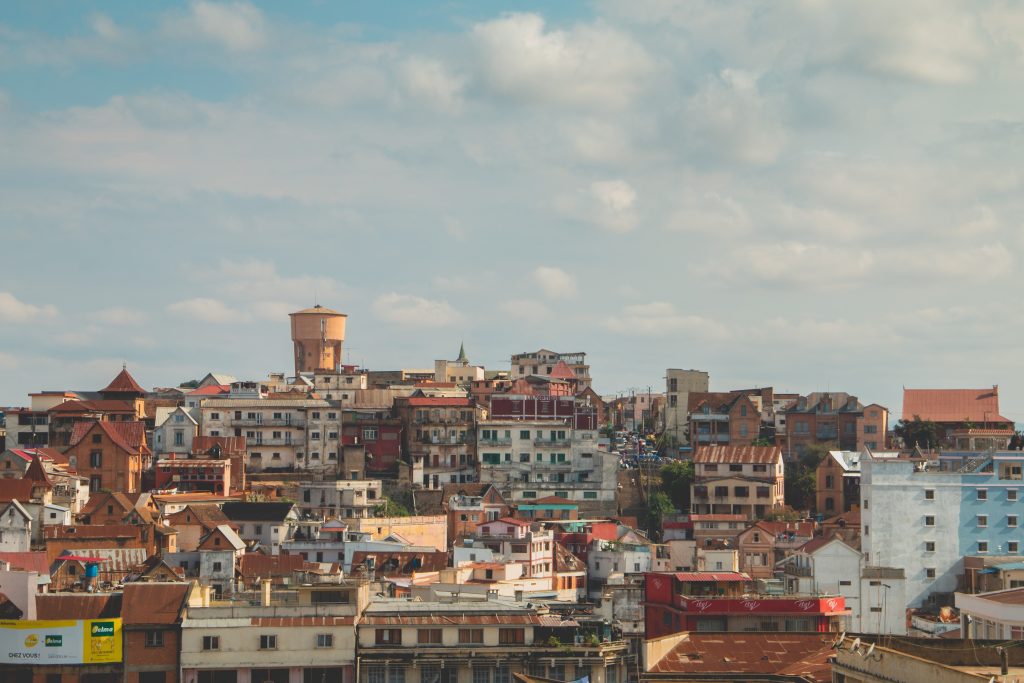 On May 7, 2023, the Local Haze AQI reading for sensor "MADA_AQ_Antsakaviro" was 67. According to the U.S. Environmental Protection Agency's Air Quality Index (AQI), this reading for air quality is considered "Moderate".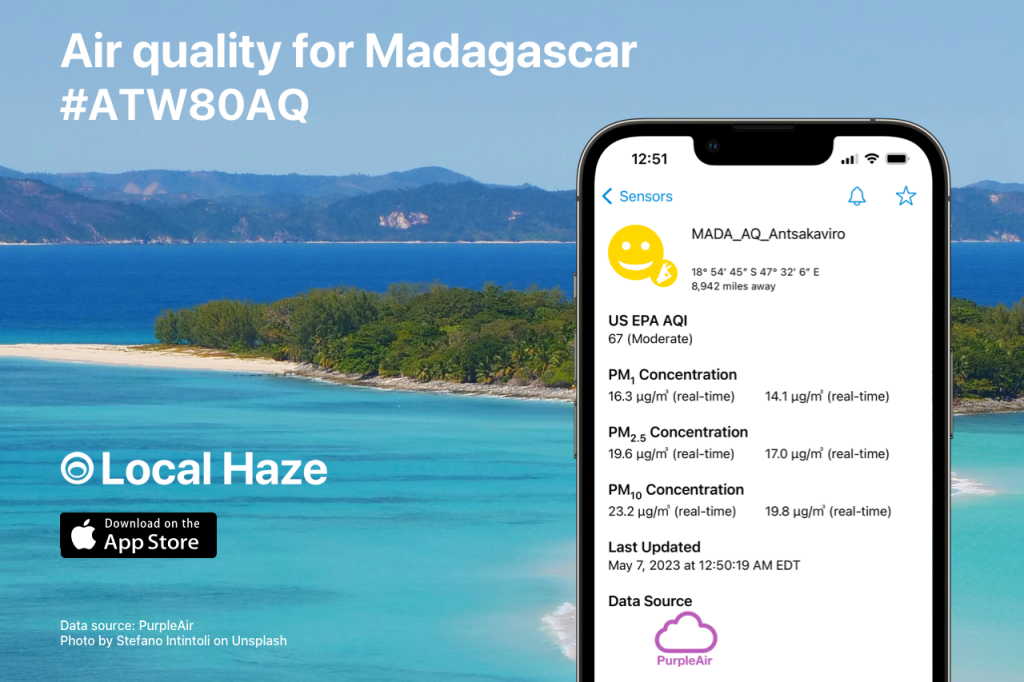 The PurpleAir sensor at this location is reporting a Moderate level of health impact, where the air quality is acceptable, but for some pollutants, there may be a moderate health concern. See the chart below to understand how Local Haze reports on and displays air quality readings and the confidence ratings on the sensor readings, as related to the US EPA Air Quality Index.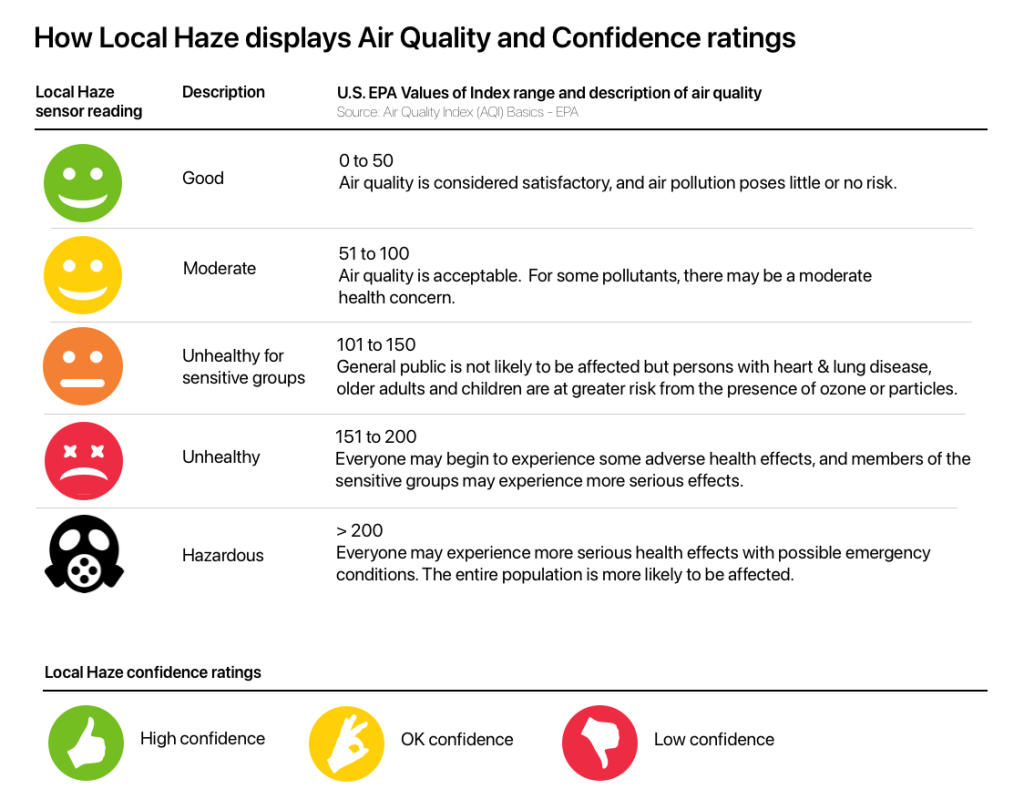 Recent air quality index readings in Antananarivo, Madagascar
Over approximately the last two weeks, the air quality index for Antananarivo, Madagascar, has varied between 63 (Moderate) and 131 (Unhealthy for sensitive groups). The table below shows Antananarivo's 24-hour averages over the last two weeks of air quality data.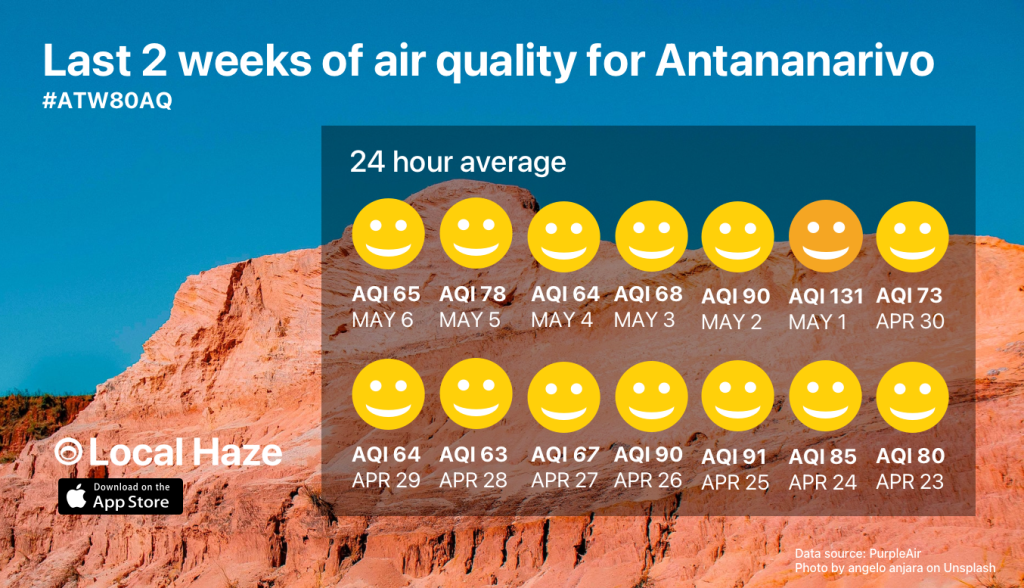 To get the current AQI reading for this PurpleAir sensor in Antananarivo, download the Local Haze app and search for sensor "MADA_AQ_Antsakaviro" or use the map feature as shown in the video below to navigate to Madagascar, zoom in to Antananarivo and tap on the map at the location labelled "MADA_AQ_Antsakaviro". 

Moving on to the next AQ sensor
To visit the next AQ sensor in our trip, we will depart Madagascar and continue our travels east – like Phileas Fogg – across the globe, visiting sensors until we return to our starting point in London. 
Join us as we travel to the next AQ sensor by following Local Haze on Facebook, Twitter and Instagram. Use the hashtag #ATW80AQ to join in the conversation and share your thoughts. Find your local air quality for free by downloading the Local Haze app. Bon voyage!
About Local Haze
The Local Haze app is available for free download from the Apple App Store and monitors over 30,000 civic and low-cost air quality sensors over six continents.