We are happy to announce that in version 2.2.2 of Local Haze, we have added a new feature for subscribers: our AirNow notifications feature. Download Local Haze from the Apple App Store.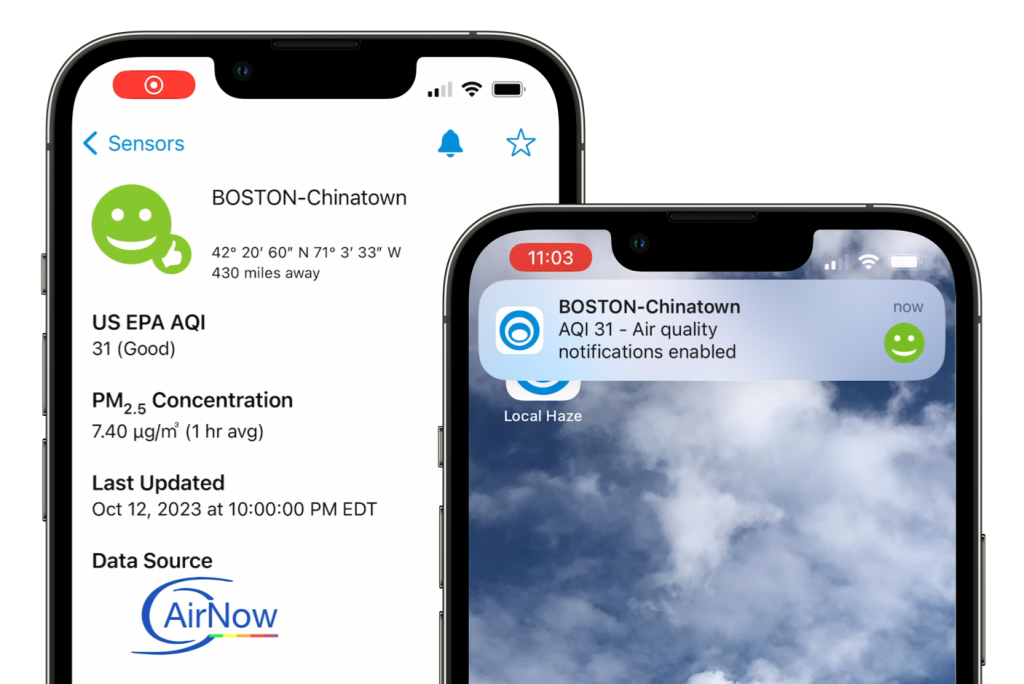 With this new feature, Local Haze subscribers can now subscribe to receive notifications about significant air quality changes from sensors reporting via the AirNow network. These sensors report one-hour averages once every 60 minutes. Until release 2.2.2, Local Haze has only supported notifications to PurpleAir, uRADMonitor and Sensor.Community air quality sensors.
A special thank you to Dr. Nicholas Newman, Cincinnati Children's Hospital Medical Center
The Local Haze team would like to thank Dr. Nicholas Newman of Cincinnati Children's Hospital Medical Center for his feedback on Local Haze and this feature request. Dr Newman is a Physician-Researcher in Cincinnati, Ohio, USA, whose work is focused on providing care to children exposed to environmental toxicants and children with special health care needs.
An MIT alum, Dr. Newman, recently contacted the Local Haze team after an MIT Alumni group webinar titled "EESN: New Air Monitoring for Tracking Health and Energy Benefits" held during the summer of 2023. This panel discussion led by Sarah Simon, the chair of the MIT Alumni Energy, Environment and Sustainability Network and former Deputy Director of the Massachusetts Department of Environmental Protection, Air Quality Division.
Learn about the health impacts of air quality in an interview with Dr. Nicholas Newman
Given his work on the impact of air quality on pediatric health, we asked Dr. Newman to tell us a bit about his work as an Associate Professor of Pediatrics at the Department of Environmental and Public Health Sciences at the University of Cincinnati and to share his thoughts about air quality monitoring. You can read the interview with Dr. Newman in the Local Haze blog. 
Download the Local Haze app for free
You can download Local Haze from the Apple App Store for free.