October 17, 2019
By Karen Donoghue, PM/UX
Download Local Haze for free: Local Haze: Air quality sensor confidence ratings on your iPhone
Local Haze
Consumers are taking air quality (AQ) monitoring into their own hands, researching, purchasing, building and installing both indoor and outdoor stationary AQ sensors for their homes. A growing market of AQ sensors available to consumers offers more choices for outdoor air monitoring such as PurpleAir and Luftdaten while governments maintain a small number of high quality calibrated sensors for monitoring outdoor air quality.
Local Haze is a free iPhone app that allows consumers to crowdsource and assess the accuracy of local outdoor air quality measurements, delivering a sense of confidence about the data.
Local Haze aggregates crowdsourced air quality sensor data and delivers the data in an easy to understand mobile user experience. Consumers can search for AQ sensors by geolocation and view sensor readings in detail. Local Haze displays both a PM2.5 reading and a "Confidence rating" of the accuracy of the sensor data based on crowdsourced readings of sensors combined with analysis of government sensor data. The Confidence rating allows consumers to clearly understand the accuracy of their local AQ readings as compared to the sensors in the surrounding geographical area.
Patch Update 1.3.1: Map performance improvement
Local Haze allows users to view worldwide AQ sensors as a navigable map. As of our last release (1.3), any map can also be shared via email, messaging, or social media accounts.
In this patch update, we have addressed performance issues with navigating the worldwide AQ sensor map. As more sensors came online we were seeing performance issues resulting in slow map rendering and navigation.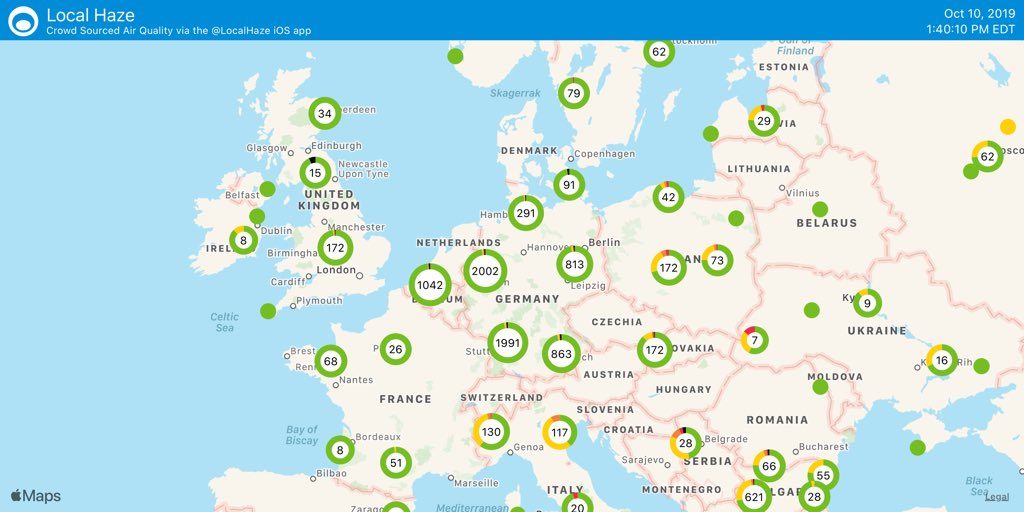 We have addressed these issues in this patch update and we now see much better map interaction performance. Click here to view a video of Local Haze map interaction with the performance update.
Improvements to Local Haze mapping performance have been done with an eye towards scalability, as the number of crowdsourced air quality sensors worldwide continues to increase.
In this release the total number of sensors that Local Haze displays is now at just over 15,000 worldwide as of today.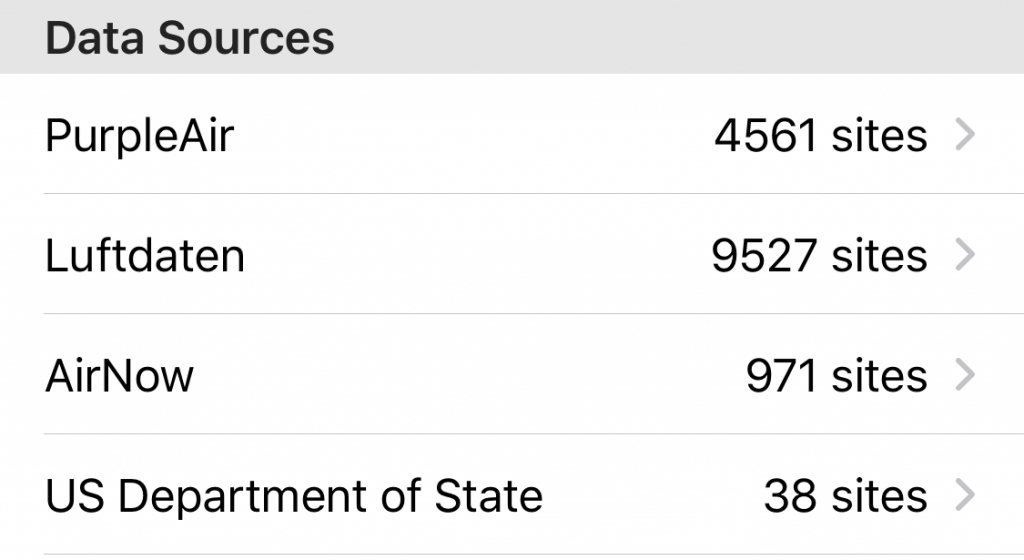 First product video for Local Haze
We created a first product video to explain the Local Haze app. The video is 20 seconds long and can be seen here on YouTube.
With this new release, Local Haze continues to help air quality enthusiasts be more confident about their local outdoor air quality readings by improving the quality of sensor accuracy through crowdsourcing.
About Local Haze
Local Haze crowdsources and analyzes readings from a variety of outdoor air quality sensors to help users understand the air quality of the world around them. Local Haze reads AQ data from crowdsourced sensors from PurpleAir and Luftdaten and government sensors via AirNow and the U.S. Department of State.
Our goal is to deliver the best possible air quality confidence ratings for people using Local Haze. We are continuing to improve the user experience and the analytics around AQ sensor data to help people understand the air quality readings for the locations and gain a sense of confidence about the accuracy about their AQ sensor readings.
Local Haze is available for free on the Apple App Store (for iPhone) and can be installed here.

For more info please visit the Local Haze site.

The Local Haze team hopes you find this new release and enhancements useful and we welcome all feedback at [email protected].
Follow updates for Local Haze on Twitter at @localhaze.